If you are looking for the episode see The Scepter of Light, if your looking for the magical object see Scepter of Light.
Is a toy that's based on the real scepter. However unlike the real scepter of corse. Real magic won't work here.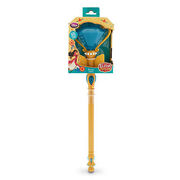 Features
The Scepter of light can sing My Time when you press the jewel button in front. However this works in mode one. When in mode two You can pretend to be princess Elena trying to use the scepter by waving it for magic. This however dosen't glow the original blue color. But instead an orange one.
Ad blocker interference detected!
Wikia is a free-to-use site that makes money from advertising. We have a modified experience for viewers using ad blockers

Wikia is not accessible if you've made further modifications. Remove the custom ad blocker rule(s) and the page will load as expected.