King Juan Ramón is a character who appears in the Disney Channel animated series Elena of Avalor. He is the father of Prince Alonso and the King of Cordoba.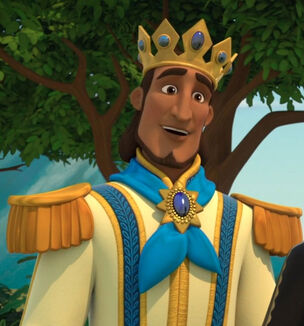 History
King Juan Ramon makes his debut in "Prince Too Charming". He first appears when Elena arrives at Cordoba Castle. Juan happily welcomes Elena to his Kingdom and voices his respect for her for defeating Shuriki. He also voices his hope she will be a good role model for his son Prince Alonso. He shows Elena tapestries depicting the history of his kingdom and a model of the bridge, both of which delight Elena. Later Elena comes back and tells him the Yacalli is going to attack the castle because Alonso upset it. Alonso runs in and tries to pin the blame on Elena and the workers but Juan sees through his lies and thanks Elena for her honesty. After Elena stops the Yacalli, Juan put Alonso to work on building the bridge to teach him a lesson in responsibility.
| | |
| --- | --- |
| | This page uses Creative Commons Licensed content from the The Disney Wiki. The list of authors can be seen in the page revision history (view authors). As with the Elena of Avalor Wiki, the text of The Disney Wiki is available under the GNU Free Documentation License. |
Ad blocker interference detected!
Wikia is a free-to-use site that makes money from advertising. We have a modified experience for viewers using ad blockers

Wikia is not accessible if you've made further modifications. Remove the custom ad blocker rule(s) and the page will load as expected.